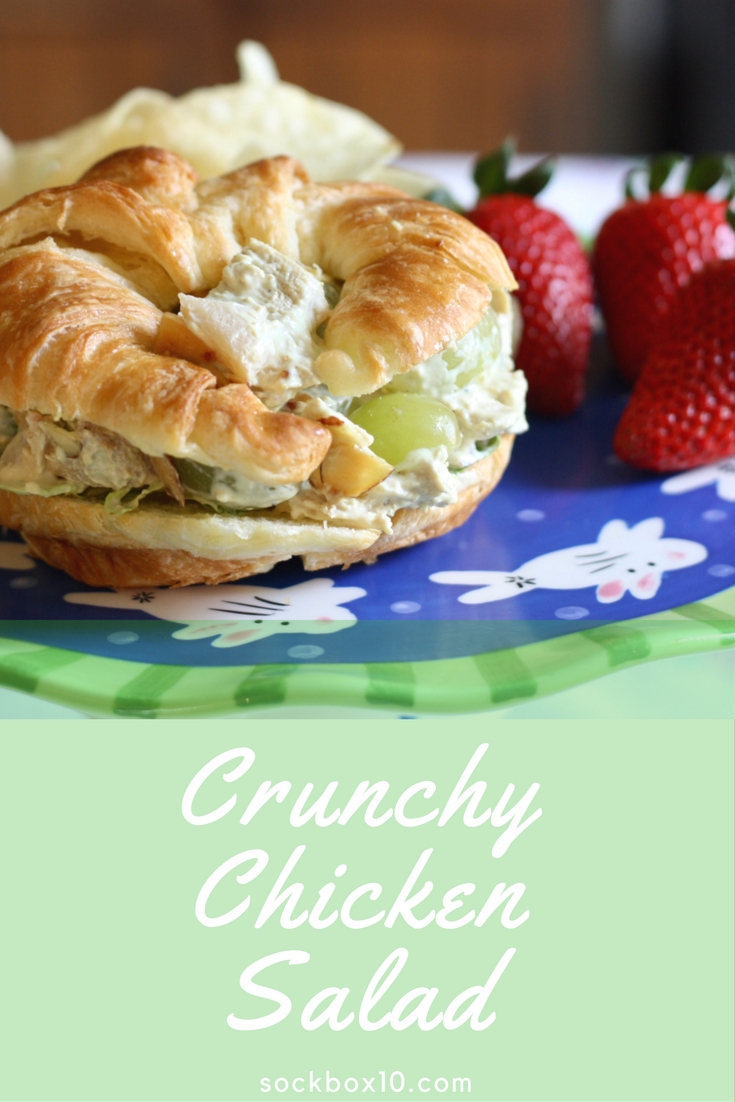 Crunchy Chicken Salad is a recipe that's perfect for any time of year.  It works for a luncheon or an evening gathering when serving sandwiches and finger foods.  The recipe is the ideal example of how each ingredient comes together with its very own purpose creating a delicious concoction.  Crunchy is part of the mix, and I'm throwing in – an Asian twist.
Thank You, Mary Beth
I have my sister Mary Beth (#1) to thank for this recipe and it's the perfect post for Sock Box 10. You see, I love being inspired by the foods families love and the stories that are wrapped in them.  This recipe has that and so much more. You know, certain gatherings wouldn't be the same without… you fill in the blank.  And, I love it when recipe cards include the person's name in the title.  Mary Beth's Crunchy Chicken Salad, written in my sister Patti's (#3) handwriting, Mary Beth's Sour Cream Cake, written in my mom's handwriting.  I remember the day my sister Patti, was writing out the recipe card for the chicken salad.  We were all in my mom's kitchen and we had just finished mixing it for an event.  That scene is still so vivid in my mind.  We all have recipes like this in our families and I'm sure you get the same feeling of joy in the memories that surround them.  Yes, Mary Beth left this world way too early, but she lived and loved to the fullest for those brief 51 years and we continue to share her stories and her recipes!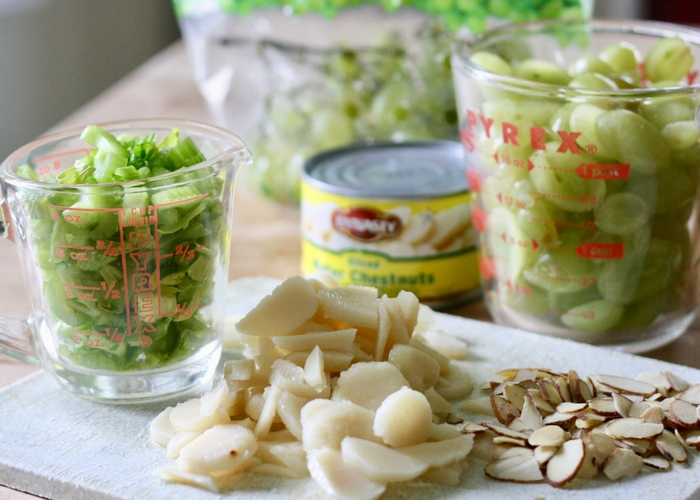 The Crunchy
Crunchy is definitely part of the WOW in this recipe.  The chunks of grapes, celery, and water chestnuts almost make it hard to keep the salad in place on the bread.  A piece of lettuce will help.  I would suggest slicing the water chestnuts one more time.  Not a chop but maybe one cut.   (this is a personal preference).
The Seasonings
The combination of seasonings is perfect!  I'm going out on a limb to say it has an Asian twist. This combo of flavors is where the ingredients; curry, soy sauce, and lemon come together knowing exactly what to do. They mix well with the mayonnaise and grab the chicken in perfect amounts.  The 1 teaspoon of curry is not overpowering, and I usually add more.  In fact, I sprinkled a little directly on top of my sandwich.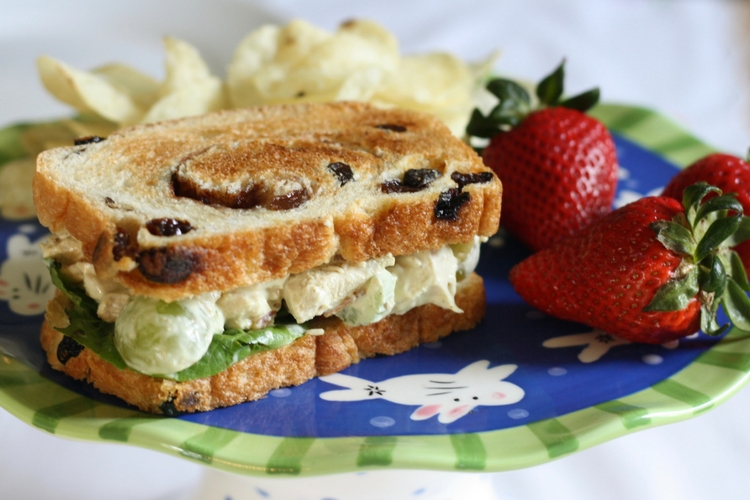 Crunchy Chicken Salad
I know you'll love the combination of crunch with the Asian twist in the seasonings.  It all comes together making a wonderful flavor that everyone will rave about.  It's the perfect sandwich for a shower or any type of party.  In the picture above the chicken salad is on my homemade raisin bread.  Just pick your favorite bread.  I love to serve with plain potato chips but then who doesn't love something crunchy and salty with a sandwich?   Do you have a favorite party sandwich?  Please consider leaving a comment below.
Thanks so much for stopping by,    Rose

Crunchy Chicken Salad
This Crunchy Chicken Salad has an Asian twist with seasonings like; water chestnuts, soy sauce, curry and toasted almonds. Our family uses this recipe for all types of parties and receptions any time of year. We have our sister Mary Beth (#1) to thank for this family favorite. Enjoy!
Ingredients
5 cups cubes cooked chicken
1 cup sliced celery
2 cups seedless green grapes cut in half length wise
1 8 oz can of drained sliced water chestnuts
1½ cups mayonnaise
1 teaspoon curry (I use 2 teaspoons but this is a personal preference)
1 tablespoon soy sauce (I use light soy sauce)
1 tablespoon fresh squeezed lemon juice
1 cup toasted sliced almonds
salt and pepper to taste
lettuce leaves to garnish or add to sandwich
Instructions
Cook chicken. I like to use boneless skinless chicken breast and boil them with a couple of chicken bouillon cubes. I use a 3 lb. bag of chicken breast to get the 5 cups. A whole chicken may be used.
Toast almonds. Place almonds on a cookie sheet in a 350 degree F. oven for 15 minutes. Turn at least 3 times while in oven and watch closely.
Combine chicken, celery, grapes, water chestnuts, mayonnaise, curry powder, soy sauce, lemon juice and toasted almonds.
I like to mix by hand, slowly turning the ingredients.
Salt and pepper to taste.
Refrigerate for 2 hours.
Serve on bread or croissants with a piece of lettuce.
The serving amount for this recipe will vary depending on the size of bread and croissants you use. You can easily get 12 full sized sandwiches.
Enjoy!