If you are looking for a cracker mix that will satisfy just about everyone, then this Shake It and Microwave It Cracker Mix is for you.   It's easy to throw together (literally), and after minutes in the microwave, you're ready to go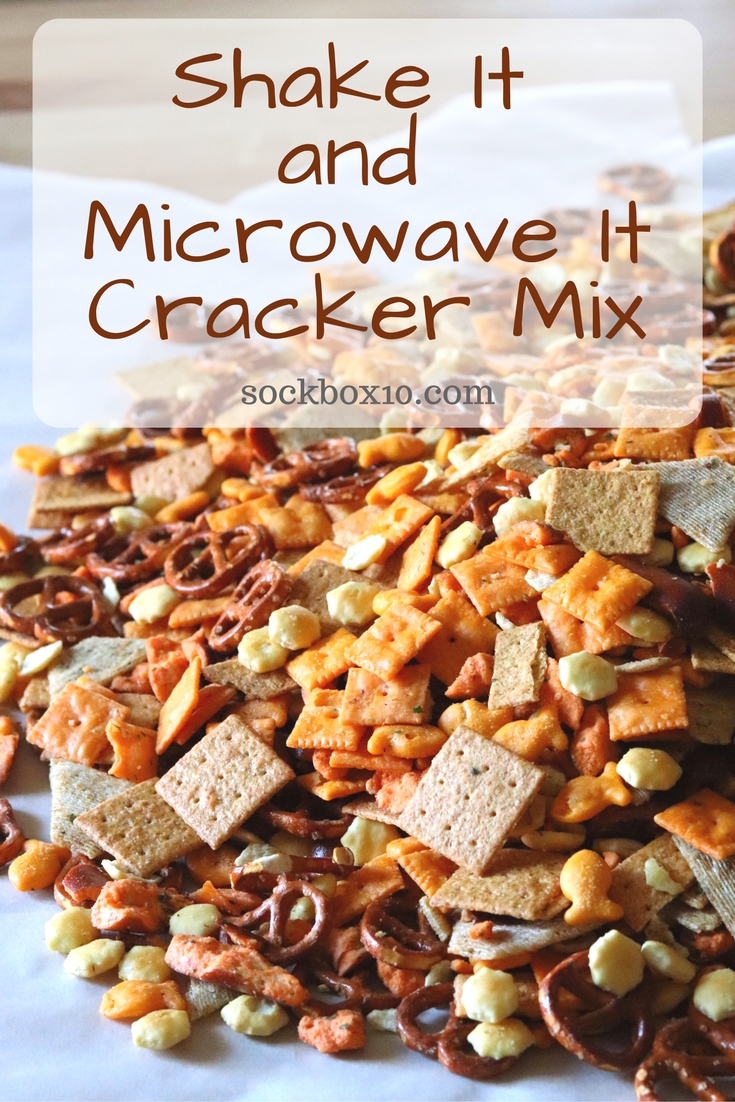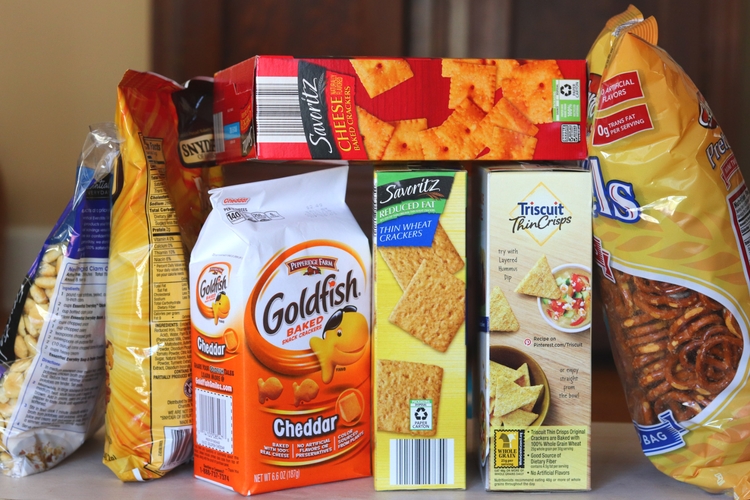 Shake It and Microwave It Cracker Mix
It might be overwhelming to see all the boxes thinking that it's a lot of store bought items and that it might be expensive to make.  I opted this time to buy the Aldi brand on two of the crackers making it very reasonable.  As far as flavor, this is the perfect mixture of crackers and topped with an even better mix of seasonings, making it a delicious party snack.
One by one the packages of crackers were opened and added to the brown paper bag.  After that, the seasoning is poured in. The seasonings are a blend of Ranch dressing mix, garlic powder, dill weed, and lemon pepper. The blended seasonings and oil coat the crackers to perfection and microwaving the mixture seals in the flavor.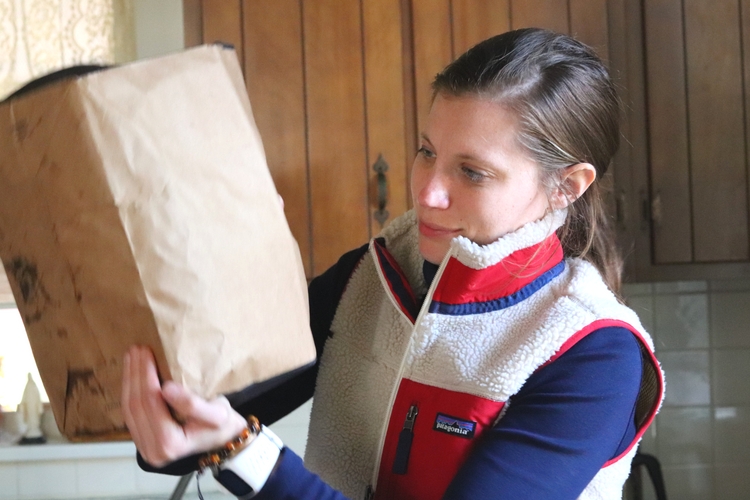 Shake It and Microwave It
If you think this recipe looks easy to make, you're right.  After the crackers and seasoning are added you give it a shake and then it's microwaved. It's just that easy!  I packaged this recipe for Maggie to distribute to the Big River Running Stores in St. Louis (they loved it)!  The picture below is the full recipe divided equally among three plastic gallon zip lock bags.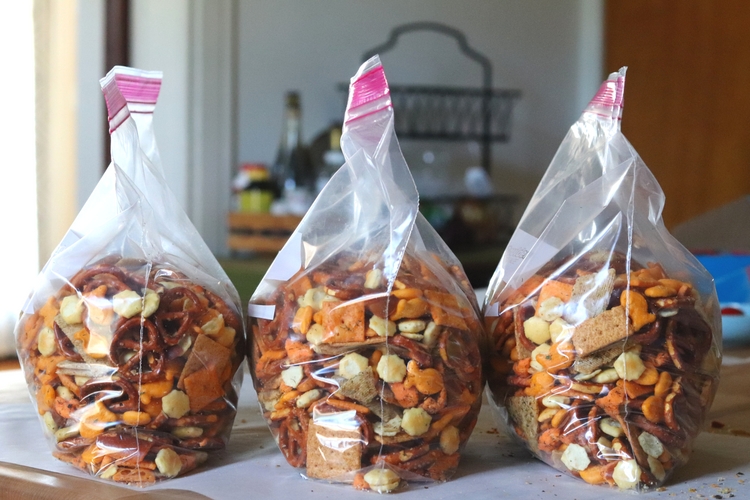 Make It A Gift
This recipe would make a great gift for someone or even a hostess gift packaged in a cute container.  As we head into the really busy time of the year, it's great to have ideas like this ready for gatherings and gift giving.
Thanks so much for stopping by,    Rose

Shake It and Microwave It Cracker Mix
This recipe has the best mixture of seasonings, and you will love how easy it is to make. Just shake it and microwave it and you're ready to go! You also have the option of adding nuts or maybe <g class="gr_ gr_64 gr-alert gr_spell gr_inline_cards gr_run_anim ContextualSpelling multiReplace" id="64" data-gr-id="64">your</g> favorite sweet. Enjoy!
Author:
Rose at Sock Box 10
Ingredients
1 box Wheat Thins
1 bag pretzels
1 bag of Pepperidge Farms Gold Fish
1 box Cheese-its (square shaped)
1 box of Oyster Crackers (hexagonal shaped, I used a bag)
1 box of triangle shaped crackers of your choice
1 bag fo Nabisco twigs (my store did not carry them, and I substituted a flavored pretzel)
Seasoning Mix
1 cup Crisco Oil
1 package of Ranch Dressing (1-ounce package)
1 teaspoon garlic powder
1 teaspoon dill weed
1 teaspoon lemon pepper
Nuts (optional)
Instructions
Pour the 7 packages of crackers into a double brown bag.
Mix the oil and spices.
Pour the seasoned oil over the crackers in the bag.
Shake the bag.
Microwave the bag for 2½ minutes then remove and shake.
Microwave for another 2½ minutes and remove and shake.
Spread the mixture on wax paper to cool.
I evenly divided the recipe into 3, gallon zip lock bags as shown in the post.