If you're like me and your eyes glaze over just looking at all the cracker varieties in the grocery aisle, then this recipe for Gourmet Crackers You Can Make At Home might be just what you're looking for.  You'll love the list of ingredients, and I bet the words wholesome and healthy come to mind. Yum!
Why Gourmet?
The term gourmet is thrown around very loosely.  Is it the presentation, exotic ingredients, the person preparing it; what is it that makes this particular recipe gourmet?  For me, this recipe is all about the blend of spices.  I guess they are some of my favorites.   When they come together in these savory and sweet crackers, they offer an earthy and exotic flavor.   I'm sure you have every spice in your cabinet, and now you have an excuse to gather them up and give them purpose!  In this recipe, you are taking common ingredients and giving them 'gourmet' status!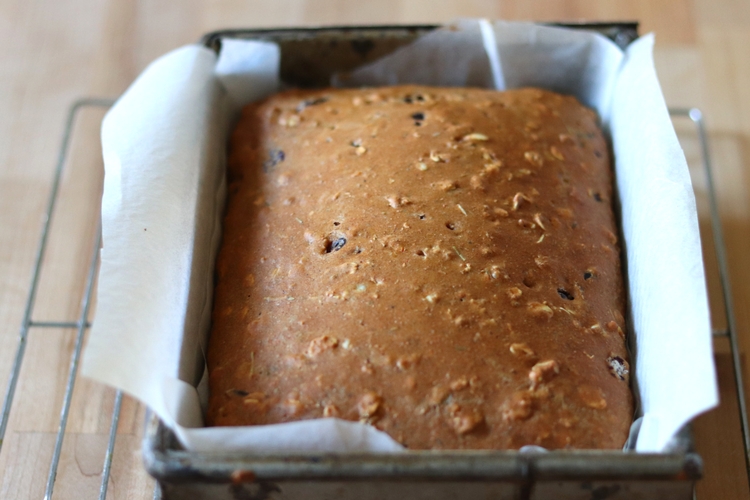 Gourmet Crackers You Can Make At Home
Don't tell my family, but I forgot to get these crackers out on Christmas Eve.  I've only made them six times in the past month and a half, that's how much I like them.  When I say you have all the ingredients and spices in your pantry – I'm serious.  The only item that I've had to replenish for this recipe is the dried cranberries (I grab them to satisfy my sweet tooth).  And, if you are a pro at transforming a recipe into gluten-free, this recipe is perfect for you, and I hope you give it a try.
The recipe starts with making a loaf and what a cute loaf it is.  The ingredients are blended and poured into a lined pan.  I just happen to have a smaller sized antique pan from a sale.  You don't want your pan to be too big because you want some height to your crackers.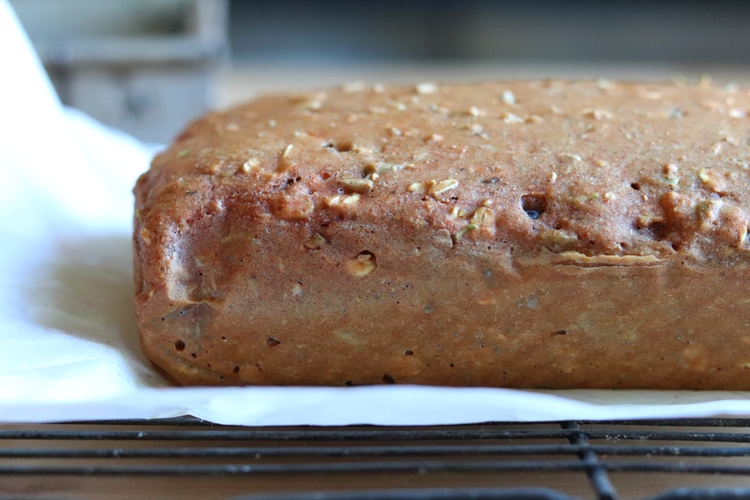 When the loaf is finished baking, it's cooled completely, wrapped in plastic wrap and placed in the freezer for 2 hours.  I still have a loaf in the freezer for another occasion.  The last time I made them I mixed two loaves.  Because they are baked in a lined pan, you can lift the loaf out of the pan to cool and then bake another one (I only have one small pan).  I did not double the recipe.  I mixed the second loaf while the first one was baking.  Mixing separate batches will ensure you have an even distribution of the cranberries and the other ingredients.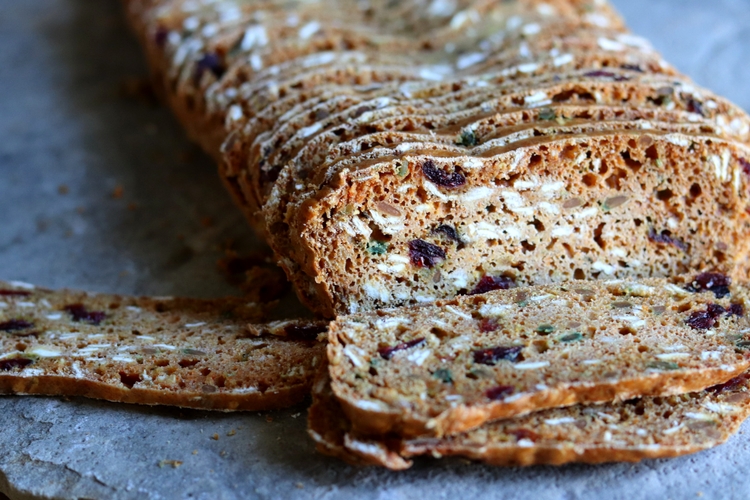 The loaf is sliced when it's partially frozen which gives you a clean cut and makes it possible to cut very thin slices.  My slices vary in thickness but shoot for 1/12″ thick.   The slices are placed on a cookie sheet and baked until crisp.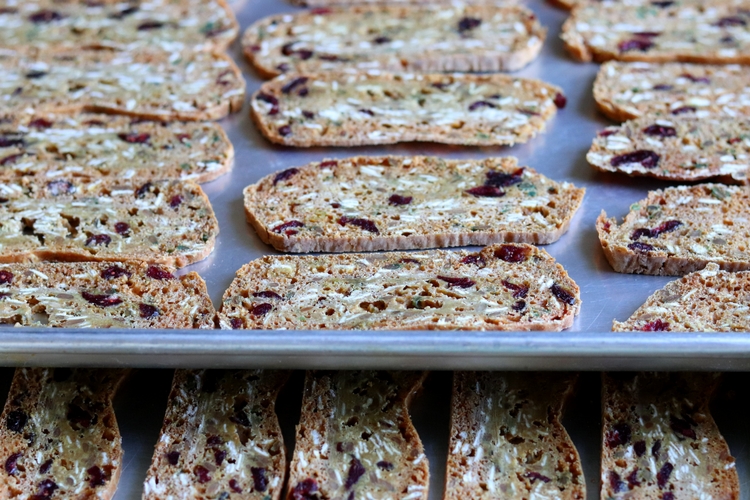 The crackers are cooled on the trays and then stored in an airtight container.  I like to put mine in a ziplock bag and then put the bag inside a tin.   The crackers stay fresh for at least a month.  In the pictures, you see the crackers in full size.  You can break them in half for a smaller sized crackers.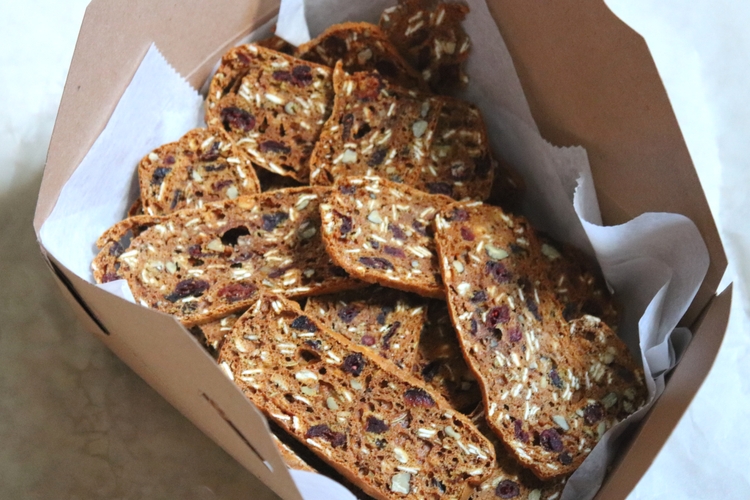 Have you ever thought about making homemade crackers?  It's been on my list for a while and this particular recipe really fit the bill.  I'm looking forward to fresh herbs this summer and experimenting with flavors.  Don't be thrown off by the steps in this recipe.  They really are easy to make and remember, the loaf can be kept in the freezer up to 3 months.  This gives you lots of time to plan and you can always have a loaf ready to slice and bake.  Now that's Gourmet!
Thanks so much for stopping by,    Rose

Gourmet Crackers You Can Make At Home
This recipe for Gourmet Crackers gives you the perfect combination of savory, sweet and crunch. You'll love the list of healthy ingredients and be surprised at how easy they are to make. It's getting harder and harder for me to grab a store-bought box of crackers after munching on the natural and wholesome taste you get in every bite. ENJOY!
Recipe type:
Healthy Snack
Ingredients
1 cup milk
¼ cup brown sugar
¼ cup plain unsweetened yogurt
½ cup all-purpose flour
½ cup wholewheat flour
½ cup dried cranberries
1 teaspoon baking soda
½ cup rolled oats
¼ cup chopped nuts (I used pecans)
Spices
½ teaspoon ground turmeric
½ teaspoon cinnamon
¼ teaspoon nutmeg
¼ teaspoon dried thyme
1 teaspoon dried rosemary
¼ teaspoon salt
⅛ teaspoon black pepper
Instructions
Preheat oven to 350 degrees F.
Grease and line a small loaf pan with parchment paper. The pan I use measures 6" x 8" x 3". The pan size will determine the size of your cracker. My baked cracker measures 41/2" x 2". You can break them in half to get small sized crackers.
Add milk, brown sugar and yogurt in a bowl and whisk.
In a separate bowl, add all-purpose flour, whole wheat flour, and cranberries. Mix with a fork and use your hand if necessary to separate the cranberries.
Add the baking soda, rolled oats and nuts to the flour mixture and combine.
Add all the spices to the mixture of dry ingredients.
Add the dry ingredients to the milk mixture and stir by hand. It will be a thick batter.
Scrape the batter into the lined pan. Bake for 25-30 minutes or until a toothpick inserted into the middle comes out clean. The time can vary with the size of your pan.
Cool completely on a rack and then wrap in cling wrap and freeze for at least 2 hours.
Unwrap loaf and let it thaw partially for 20 minutes.
Preheat oven to 250 degrees F.
Using a serrated knife, slice the loaf as thinly as possible. Slicing the loaf while partially frozen makes it a lot easier to get a clean thin slice.
Place the slices on cookie sheets and bake for 50 minutes, alternating the trays in the oven halfway through.
Let the crackers cool completely on the cookie sheets. They harden as they cool.
Store the crackers in an airtight container for up to 4 weeks.
These crackers are delicious, and I promise you, once you've made them, it will be hard to go back to the store-bought brands.
NOTES
The size of the pan will determine the size of your crackers and how long they will need to bake.
It is important to slice the loaf partially frozen, and it's a little difficult. This is the only way you'll get a clean slice. Begin slicing on one end and then turn and slice the other end. This gives the ends time to soften. Continue going back and forth to the ends until the loaf is completely cut.
The number of your crackers you get will vary with your pan size. With my 6"x8"x3" pan, I get at least 40 crackers that are approximately 41/2"x2". They can be broken in half before serving for a smaller cracker.
This recipe is a third generation knock-off of a Trader Joes gourmet cracker by The Cafe Sucrefarine. By that I mean the recipe has been researched and altered by multiple people and we thank them for that! I found the knockoff on Recipe Tin Eats.